Sebastiaan & Ria (Beek, The Netherlands) Administrative Support. Sebastiaan Smeets and Ria Compagne have been friends with Chantal and Antoine since they were neighbours at the Koning Clovisstraat in Maastricht. Now they have taken the responsibility of keeping an eye on administrative issues that the bikers cannot take care of themselves, while being in Afrika. Sebastiaan and Ria live in a nice house with a pretty garden in Beek. Sebastiaan works for a building corporation as an acountant. Ria´s job as a counselor includes giving information on prevention and addiction to alcohol and drugs.
Emil, Olivia and Fleur (Maastricht, The Netherlands) Project Support Team. Emil Möller, Olivia van de Koppel and Fleur Prompers are administratively supporting the project in Nepal, which Antoine and Chantal are bicycling for. Emil's goal in life is to raise general awareness about our energy-consuming society. He is working on making the electric car available and affordable for the average person. Emil will answer emails about the project in Nepal, when Chantal and Antoine have no internet access. Olivia has known Sabine, our contact in Nepal, for many years. She spent eight months in Nepal as a volunteer in 2003 and therefore feels connected with this project. Among many other projects, Olivia has done theatre for children. Together, Emil and Olivia have a daughter, Ilya. Fleur has been one of Chantal's friends since university. She has shown to be a very dependable, accurate team member when being chief editor of Dutch student magazine Mosaïek. Aside from her studies, she is currently involved in the organization of the Maastricht Rag Week, in which thousands of students voluntarily raise money for people in need. Fleur and Olivia will take care of the administration for the project in Sarangkot.
Paul & Marian Febvre (Fort Collins, Colorado U.S.A.) Materials Support Team. Ponny and Marian are Antoine´s parents. They live in Colorado, where the sky is always blue. Marian works as a children´s therapist. Ponny retired several years ago. Now he loves working in his woodshop, whenever he can. He is the artist of this website´s logo as well. Ponny and Marian will send Antoine and Chantal camping gear whenever it is not available where they are.
Robert Buzink (Maastricht, The Netherlands) Site Development & Web Master. Robert has been a great help for Antoine in the process of developing this website. He will continue being the website support as Chantal and Antoine travel. Robert has finished master´s degrees in Arts and Social Sciences and Journalism. He has a web development company called broot and works as a freelance journalist.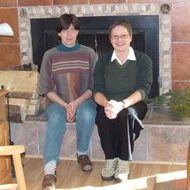 Sabine & Marleen (Wyoming & The Netherlands) Administrative Support. Marleen is Chantal´s mom. Sabine is Antoine´s sister. Both take care of administrative ´loose ends´, Marleen in The Netherlands and Sabine in the United States. Marleen works as a teacher in elementary school in Heythuysen. She loves sports and exercises almost every day. Sabine is a great cook. She was the one who made Chantal and Antoine´s impressive, seven-layer wedding cake. At the moment, she lives in Laramie, Wyoming.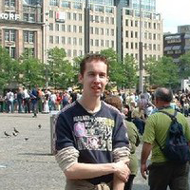 Marco Takken (Roermond, The Netherlands) Email & Computer Support. Chantal and Antoine know Marco through Trudie, who is a good friend of theirs. Marco is a computer miracle. While finishing a degree, he managed to self-study the Microsoft System Administration courses. He has helped the bikers to make their pc work while they were living in Valkenburg. Now he supports their email access all over the world.
Arthur Claessens (Bavel, The Netherlands) Administrative Support. Arthur is Chantal´s dad. He lives in Bavel, near Breda. He will take care of sending bike equipment from Vittorio, if necessary. Arthur is a structural engineering consultant. He works for Xella Nederland and he really likes his job. When he is not working, he likes diving.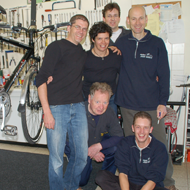 Cycles Jean Habets (The Netherlands) Bicycle Support. In the bikeshop in Schin op Geul, Antoine has learned how to fix a bike. Almost every Wednesday from March until September 2007, Jean showed Antoine how to adjust gears, fix broken spokes, take a bike apart and most importantly, put bikes together. This was one of the basic needs in order to be able to bike a continent like Africa.